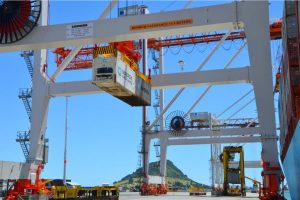 Port of Tauranga's investment in capacity to accommodate bigger ships has proven a successful strategy for growth.
The Company spent more than $350 million over six years to prepare for larger vessels, which started calling in late 2016.
The investment included dredging to widen and deepen shipping lanes, extending the container wharves by a third, and purchasing new ship-to-shore crane and cargo handling equipment.
Port of Tauranga is now planning for future cargo growth.
Read more about our facilities at Mount Maunganui, Tauranga, Auckland and Christchurch, as well as our national network of associate companies. You can also find the contact details for service providers and shipping lines serving Port of Tauranga, and our tariffs and terms.