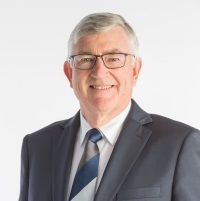 D A PILKINGTON – BSc, BE, GradDip Dairy Science & Technology, CFInstD
CHAIR, INDEPENDENT DIRECTOR
David Pilkington was a member of Fonterra's senior executive team. He holds Directorships in Northport Limited, Port of Tauranga Trustee Company Limited and PrimePort Timaru Limited and chairs Douglas Pharmaceuticals Limited and Rangatira Limited. He has a strong background in marketing, international business and supply chain logistics. David joined the Board in July 2005.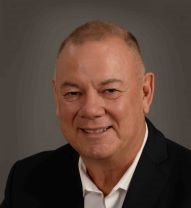 D J BRACEWELL
INDEPENDENT DIRECTOR
Dean Bracewell has deep transport and logistics industry experience. He was a former Managing Director for Freightways, one of New Zealand's largest transport and logistics companies, for more than 18 years before embarking on a successful governance career in 2018.
Currently Dean is a Director of Air New Zealand Limited, Property for Industry Limited, the Halberg Trust and Tainui Group Holdings Limited. He joined the Board in December 2021.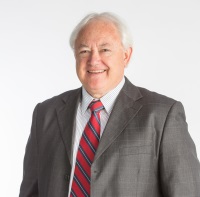 SIR ROBERT A McLEOD – KNZM, LLB, BCom, FCA, CFInstD
Sir Robert McLeod joined the Board of Quayside Holdings Limited in November 2016 and is Chair. Sir Robert is also Chair of Quayside Securities Limited, Quayside Properties Limited, NZX listed Sanford Group and Ngati Porou Holding Company Limited. He is a Director of AZSTA NZ Limited, China Construction Bank (New Zealand) Limited, MSJS NZ Limited, Point 76 Limited, Point Guard Limited, Point Severity Limited and VCFA NZ Limited.
Sir Robert has been a past Board Member of ANZ National Bank, Tainui Group Holdings, SkyCity Entertainment Group and Telecom and he was Oceania (Australia, New Zealand and Pacific Islands) CEO / Managing Partner for the international accounting practice of Ernst & Young and more latterly as Ernst & Young New Zealand Chair, a position from which he retired on 31 December 2015. In 2019, Sir Robert was appointed Knight Companion of the NZ Order of Merit.
Sir Robert joined the Board in October 2017.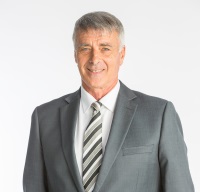 D W LEEDER
Doug Leeder is Chair of Bay of Plenty Regional Council. He is a dairy farmer, and has considerable experience in governance and management. Doug has held positions of governance in Federated Farmers, was a Director and Chair of Bay Milk Products, Director of the East Bay Health Board, Chair of Subsidiary East Bay Energy Trust, Chair of NZ Dairy Group and Dairy Insight and Director of DEXCEL. Doug joined the Board in October 2015.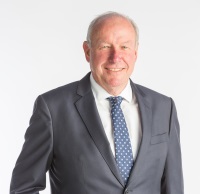 A R LAWRENCE – BCA (Business Admin)
INDEPENDENT DIRECTOR
Alastair Lawrence is a very experienced corporate advisor specialising in commercial evaluation and strategy development. He was a Director of private investment bank Antipodes from 1998-2014. Governance roles have included the Takeovers Panel, Landcare Research Limited, Coda GP and a number of mid-market private companies. Alastair joined the Board in February 2014.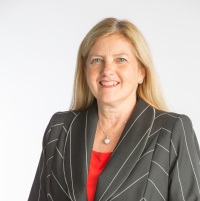 J C HOARE – BCom, FCA, CMInstD
INDEPENDENT DIRECTOR
Julia Hoare joined the Board in 2015 and currently chairs its Audit Committee. She has a wide range of commercial, financial, tax, regulatory and sustainability expertise developed from both her extensive governance roles and over the course of two decades as a partner with PwC.
Julia is Deputy Chair of The a2 Milk Company Limited, and a Director of Auckland International Airport Limited and Meridian Energy Limited. She is President of the Institute of Directors and a Member of the Chapter Zero New Zealand Steering Committee.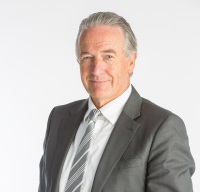 K R ELLIS – BCA Economics (1st Class Honours), BE Chemical (1st Class Honours)
INDEPENDENT DIRECTOR
Kim Ellis is Chair of Green Cross Health and NZ Social Infrastructure Fund Limited, and a Director of Fonterra Shareholders Fund (FSF) Management Company Limited. Kim chairs the Remuneration Committee and joined the Board in May 2013.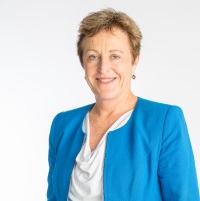 A M ANDREW – BE Chemical & Materials (1st Class Honours), MBA (Distinction), FEngNZ, CMInstD
INDEPENDENT DIRECTOR
Alison Andrew is currently Chief Executive of Transpower New Zealand, having joined in 2014. She has held a number of senior executive roles across various industry sectors, most recently as Global Head of Chemicals for Orica PLC. She has also been a Director for Genesis Energy. Prior to those roles, she held a number of senior roles at Fonterra Cooperative Group and across the Fletcher Challenge Group in Energy, Forests and Paper. Alison has a MBA from Warwick University, and studied Engineering (Chemicals and Materials) at Auckland University. Alison joined the Board in April 2018.