Port of Tauranga offers a range of career opportunities spanning from land to water.
If you're up for challenging yourself in a stimulating and fast-paced working environment, check out the unique portfolio of roles which keep our business running 24 hours a day, seven days a week.
Pilot Launchmaster – Anna Willoughby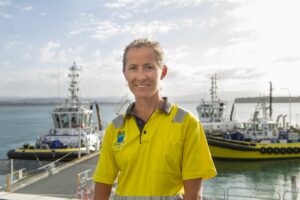 "It's the place to be," says Anna Willoughby, a Port of Tauranga Pilot Launchmaster, who is very fond of the picturesque view from her office window – the helm of a launch, that is. Anna is one of a small team whose job it is to ferry our pilots out to a ship and bring them back to shore after a vessel departure. She also transports our employees and contractors out for maintenance of Port infrastructure, and actively clears the channel to ensure there is a safe passage for travelling vessels. "It never gets old," says Anna, "every day is different". Being in constant contact with operational teams is something Anna relies on in her role, as she's got to know what's going on around her. "The timing of a work order can be very fluid, but we depend on each other to be in the right place at the right time". It's a collective effort which relies on collective decision making, but at the centre of it all, the priority is keeping everyone safe.
Property Administration Manager – Sheree Horsburgh

As Manager Property Administration, Sheree ensures all Port customers who occupy Port owned land and/or buildings have a formal lease arrangement in place. As one of the city's biggest landowners, Port of Tauranga boasts approximately 208 hectares of land and buildings in its portfolio. "It's a busy and interesting job within a great team," says Sheree, "and I really enjoy working alongside our customers". Working with the Ports solicitors, Sheree helps to draft lease documents and manages all administration for the Property leasing portfolio, including any insurance requirements. "It definitely keeps you on your toes. With a 24/7 operation, there are lots of variables and you never know what each day will bring".
Cargo Services Supervisor – Kel Jones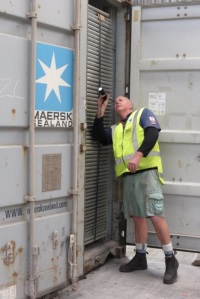 Cargo Services Supervisor Kel Jones oversees the management of import and export cargo on the Port's Mount Maunganui wharves. "All cargo creates its own challenges," explains Kel, "you've got to be flexible to manage the situation at hand." As a Facility Operator and Accredited Person, Kel works closely with MPI and Customs to inspect a wide range of goods. He's got to be vigilant and thorough to ensure cargo is clean and abides by New Zealand's biosecurity regulations. Kel believes it's the people who make it such an enjoyable job. "Working together makes it a great place to be. Everyone helps each other and looks out for one another." In his role, Kel works with a range of people from marshallers and stevedores to customers both locally and overseas. He says communication is the most important attribute for the job. "To work alongside each other, everyone's got to be informed about what's going on " – sometimes it is just about pointing a customer in the right direction or making sure they have the correct documentation, but it all adds up to create a safe and productive port.